Post by Mr Kite on Jun 1, 2013 16:05:34 GMT
A beginning of sorts .
How I became a Beatles fan is a long tale but it`s all down to an Apple .
Born in the 60`s but too young to remember The Beatles but everyone was listening to The Beatles and my household wasn't any different and at the age of five I was putting forty fives on the record player , and as my old ma used to tell me it was a party trick that even though I couldn't read I knew the records by the colour of the labels .
A few years down the road and my Brother`s friend gave me a record choice and put two singles in front of me and it was I think (For it wasn't that important ) Cilla Black or a single with an Apple on it .
That was to be and still is my favourite song . Hey Jude .
Fast forward to about 1974/5 and I bought this album , it wasn't my first Beatle album , but it is the beginning of a career of the finest band in music history , maybe not the best album but it is the most important one .
•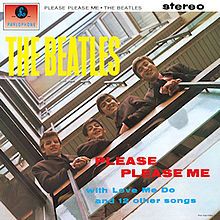 •
• John Lennon – lead vocals, background vocals, rhythm guitar, acoustic guitar, harmonica, hand claps
• Paul McCartney – lead vocals, background vocals, bass guitar, hand claps
• George Harrison – background vocals, lead vocals on "Chains" and "Do You Want to Know a Secret", lead guitar, acoustic guitar, hand claps
• Ringo Starr – drums, tambourine, maracas, hand claps, lead vocals on "Boys
Recorded in just over nine hours and produced by George Martin who would become in my opinion the fifth member of the group
Lennon and McCartney .
I guess that`s the most important thing that was printed on the bottom of the black and gold label .
And if you think why The Beatles became the greatest band that will ever make records it the music .
I Saw Her Standing There .
From the count in from Paul McCartney it`s a foot tapping tune that has you either clapping or foot tapping and almost 50 years on McCartney still plays this tune live .
Must up there with one of the best album openers .
Misery.
Another Lennon and McCartney song that is short but sweet and one that stands out where you have both Lennon and McCartney in harmony.
Anna (Go With Him)
John Lennon sings on this tune and if you not one for looking at who wrote this song you would have thought it was yet another Lennon, McCartney song .
That`s how good this version is .
Chains.
This song introduce `s the listener to another band member George Harrison who gives a great performance and brings yet another important piece of the jigsaw that makes this a great album .
Boys.
Next up is the newest member of the band Ringo Starr who sings another cover and sings as though he`s got a bus to catch , fast paced and again another foot tapping tune .
Ask Me Why .
Lennon sings on this one with great harmonies and is a slow paced rocker if I had to describe it .
Please Please Me .
The album title and maybe the song that rocketed the band into the becoming the band on everyone`s lips and record players in the 60`s .
George Martin tried to pursued the Band to release a cover song How Do You Do It for their next single as he wasn't on keen on this track .
Once again the most important part of the bands history was that they went with a Lennon and McCartney song .
Love Me Do.
The groups first single and has the harmonica playing Lennon and McCartney with both taking lead vocals.
P.S. I Love You .
Another penned Lennon and McCartney with McCartney taking the lead vocals and I guess many teenage hearts around the early 60`s
Baby It`s You .
One of my favourite none penned Beatle song .
Lennon sings this as though with maybe most of his covers it was written by the man himself.
Do You Want To Know A Secret .
George sings Lennon and McCartney which he would only do one more time .
A Taste Of Honey .
Another great cover sung by McCartney
There`s A Place .
Another great foot tapper sang by Lennon and McCartney and a haunting Harmonica
Twist And Shout .
The Best way to finish the album is with a rocker and this song with Lennon who`s voice now almost gone rocks this cover and leaves you wanting more .
Legends all have beginnings and this album is a worthy of the legacy of the which would become the greatest story in Rock and Pop history .